Home Page
Tournaments
Upcoming Events
Approved Instructors
Mission Statement
Lightning Alumni
Board Members ‎
Lightning By-Laws
Operating Policies
Board Minutes
Indoor Facility
Privacy Policy
Contact Us

***FREE ADMISSION***
The Nevada Lightning Fastpitch Organization is providing a set of two free Fastpitch Clinics for players age seven to fourteen during the month of February. This years clinic will focus on skills for the 7U through 14U players.

18U Lightning '00 Vicino
18U Lightning '01 Moore
16U Lightning '02 Wheelen
14U Lightning '04 Dawson
12U Lightning '05 Betker
12U Lightning '06 Wilkins
10U Lightning '07 Harris
10U Lightning '08

Nevada Lightning Organization is pleased to announce the 2018 Tournament Schedule.

Please feel free to contact us to learn more about joining Nevada Lightning Fastpitch Softball organization.

NCAA College Bound Athlete Guide
NCAA Eligibility Center
NAIA Eligibility Center
NCAA Educational Resources
ACT/SAT Dates

Uniform Order
Team Sports Ink
Athletics Unlimited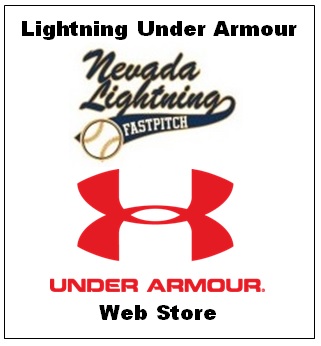 Coaches/Managers Code of Ethics
Digital Media Release Authorization
Liability Waiver
Medical Release
New Team Membership Application
Parent Agreement
Player Profile Data Sheet
Sales Tax Exemption
Scholastic Eligibility
Sponsorship Letter
Nevada ASA Player Application
Nevada ASA Staff Application

Amateur Softball Association of America
Capital Sports Association
Premier Girls Fastpitch Association
Triple Crown Sports
USA Preps
USSSA Sports Association
National Softball Association, Inc

Click Here to View our Sponsors