About Coach Chuck Lovitt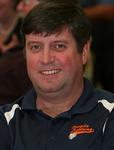 Chuck Lovitt President and Owner of Play Up Athletics Chuck Lovitt was employed with the City of Reno Police Department for 24 years before retiring as a sergeant. During his tenure as an officer with the department, Chuck worked a variety of assignments including patrol, as detective in a federal organized crime task force, the regional gang enforcement unit, an undercover detective in the regional narcotics unit and a Field Training Sergeant.
Getting Started With Training And Coaching
Chuck became intimately involved with the training and coaching of young police officers and sergeants and first exposed him to the concept of adult based learning. In 1999 Chuck was selected to attend an advanced adult based learning course and was certified as an instructor in that capacity. Since that time, Chuck has instructed and presented to countless civilians and law enforcement personnel in several states and on several topics, including fraud prevention, computer crime, undercover drug operations, community oriented policing, impartial policing, customer service, diversity, and leadership.
Chuck was promoted to Sergeant in 2000 and worked several assignments in a supervisory capacity including the regional gang unit, internal affairs, financial crimes unit, computer crimes unit, robbery / homicide and patrol. Chuck has developed many policy/procedures and training for numerous law enforcement agencies to including impartial policing, leadership, and many other topics. He also developed and implemented regional training for members of several law enforcement agencies.
Passion For Sports Meets Coaching Expertise
Chuck has been involved in coaching youth sports since 2000. In 2009, Chuck was asked to become the recruiting coordinator for a youth sports team. During his volunteer assignment with the team, Chuck assembled a revolutionary recruiting strategy that resulted in enormous success in helping student athletes achieve their dream of playing in college. Chuck was able to help place every player from that first team go to college and play their sport, from the junior college level to NCAA Division I. Chuck was equally successful in assisting with the obtaining of scholarships and aid for these athletes. Most received athletic scholarships, but collectively, over the course of their four years in college, the members of that first team will receive over 1.5 million dollars in scholarships and aid.
It wasn't long before sports teams and organizations from all over the area, and soon all over the country, were asking for assistance with their recruiting strategies. Since then, Chuck has been credited with assisting countless student athletes, in a variety of sports, reach their goal of collegiate athlete. In 2012, Chuck created Play Up Athletics to meet the needs of the many athletes, everywhere, who have aspirations to play at the next level. Over the course of his adult life, Chuck Lovitt has conducted training for, consulted with and spoken to, personnel of government agencies, the military, law enforcement agencies and multi-million dollar corporations. He now brings this experience to student athletes to prepare them for college, and whatever life brings them after college.