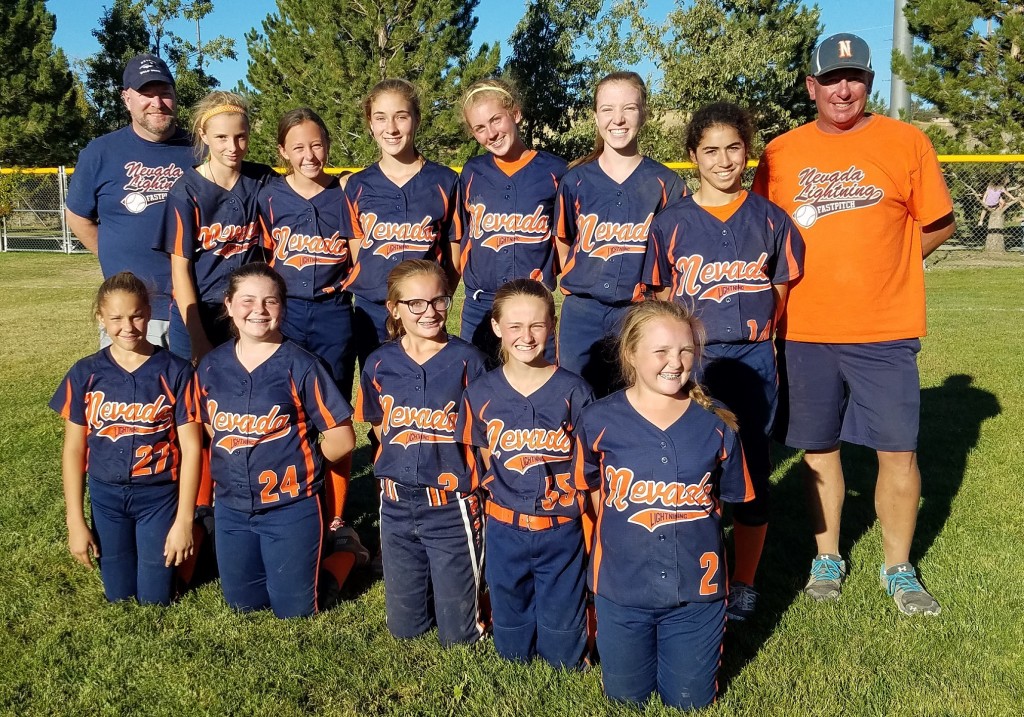 The Lightning '03 team is a team headed in a positive direction, after a lot of hard work. There is a core group of talented girls and good families already in place on the team currently.  We have infused a good deal of new recruits and families into the mix heading into the spring/summer season.
Head Coach, Heather Lee, was born and raised in Reno, NV.  She is a graduated from Hug High School class of 1994.   Where she is currently in her second year as the Varsity Softball Coach.  Heather played catcher throughout high school as well as in Junior College at both Sac City and Southwestern Oregon.  Heather has coached at many different levels including youth recreation softball to Jr. College at Southwestern Oregon.  The bulk of Heather's coaching career is at the high school JV and Varsity levels.  Heather understands what it takes to play at all levels and is a great asset to the Lightning organization.
Brett Dawson serves as the pitching coach for the '03 team.  He brings several years of coaching experience with a special emphasis on handling pitchers.  Brian Vodenal rounds out the coaching staff, who brings several years coaching experience to the table.
The mission for the team is to promote both developmental and competitive aspects with their girls. The coaches will do a lot of teaching on the field, as they "explain the why" and use teachable moments in games to help their players softball IQ grow.  Getting girls ready to play at the high school level is a main goal of the coaching staff as well.  The management team and the Lightning organization will also talk with families about the college recruiting process.  The team will work hard as they make the move to becoming an "A" level travel team, which is a trademark of teams within the Nevada Lightning organization.
14U Lightning '03 Dawson – 2017 Roster
#

Player

Grad YR

Bats 

Throws

Positions

 00

 Ashley Combs

 2021

 Right

 Right

 P/SS/OF

  5

 Maitane Woodin

 2021

 Right

 Right

 P/2B/OF

  7

 Claire Williams

 2022

 Right

 Right

 P/3B/2B/OF

  8

 Maia Beaulieu

 2022

 Right

 Right

 SS/C/2B/OF

  9

 August Vodenal

 2021

 Left

 Left

 1B/OF

 12

 Alyssa Nicholson*

 2021

 Right

 Right

 C/2B/OF

 13

 Alicia Evans

 2021

 Right

 Right

 2B/OF

 14

 Sara Calderas

 2021

 Right

 Right

 3B/C/OF

 16

 Amelia Rosevear*

 2021

 Right

 Right

 2B/3B/OF

 18

 Elliotte Phinney

 2021

 Right 

 Right

 3B/SS/OF

 20

 Madison Larrance

 2022

 Right

 Right

 3B/OF

 

24

 Taylor Higley

 2021

 Left

 Right

 C/3B/OF

14U Lightning '03 Dawson – Player Profiles
Maia Beaulieu
Bats: Right
Throws: Right
Positions: SS/C/2B/OF
Class of 2022
Sara Calderas
Bats: Right
Throws: Right
Positions: 3B/C/OF
Class of 2021
Ashley Combs
Bats: Right
Throws: Right
Positions: P/SS/OF
Class of 2021
 

                                                   

 

                                                 

                                                 

Alicia Evans
Bats: Right
Throws: Right
Positions: 2B/OF
Class of 2021
Taylor Higley
Bats: Left
Throws: Right
Positions: C/3B/OF
Class of 2021
Madison Larrance
Bats: Right
Throws: Right
Positions: 3B/OF
Class of 2022
                                                  
                                                
                                                
Alyssa Nicholson
Bats: Right
Throws: Right
Positions: C/2B/OF
Class of 2021
Elliotte Phinney
Bats: Right
Throws: Right
Positions: 3B/SS/OF
Class of 2021
Amelia Rosevear
Bats: Right
Throws: Right
Positions: 2B/3B/OF
Class of 2021
 

                                                  

 

                                                  

 

                                                  



August Vodenal
Bats: Left
Throws: Left
Positions: 1B/OF
Class of 2021
Claire Williams
Bats: Right
Throws: Right
Positions: P/3B/2B/OF
Class of 2022
Maitane Woodin
Bats: Right
Throws: Right
Positions: P/2B/OF
Class of 2021
14U Lightning '03 Dawson – 2017 Practice Schedule
Mondays 6:00 PM – 8:00 PM Indoors at Bret's Baseball and Softball Academy

Wednesdays 7:00 PM – 9:00 PM Outdoors at Peavine or Indoors at Bret's Baseball and Softball Academy
14U Lightning '03 Dawson – 2017 Tournament Schedule
USSSA Pot of Gold
March 18th – 19th
Reno, NV
USSSA Queen of the Hill
April 8th – 9th
Reno, NV
USSSA Bownet Challenge
April 22nd – 23rd
Reno, NV
USSSA Double Double #1
May 6th – 7th
Reno, NV
USSSA Battle of the Bats
May 20th – 21st
Sacramento, CA
NSA Sierra Shootout
June 10th – 11th
Sparks, NV
USSSA Shooting Star
July 8th – 9th
Elk Grove, CA
USSSA Last Stop
July 29th – 30th
Reno, NV
14U Lightning '03 Dawson – Coaching Staff