Tammy Navarro, from Carson City, is the head coach of our 12U '04 Navarro team. Tammy brings a solid background of fastpitch coaching to the table and is in the process of helping recruit more players to fill out the 12U '04 team's roster.
Tammy graduated from Dayton High School in 1993, where she was a three sport letter winner, playing volleyball, basketball and softball.  Upon graduating from Dayton High she attended Shasta College in Redding, California for two years.  While at Shasta she was a two-sport athlete playing both volleyball and softball.  She has since been inducted into the Shasta College Athletic Hall of Fame.  After her two years at Shasta, Tammy earned an athletic scholarship to play softball at NCAA Division Two school, Missouri Western State University.  Tammy's NorCal Shots summer collegiate team, for whom which she played for from 1994 to 1997, was fortunate to play an exhibition game in the early summer of 1996 against the inaugural Team USA softball team.
Tammy started her coaching career in 2003 with the Nevada Sharks organization and has been coaching ever since.  In the spring of 2017 she has come on board the Nevada Lightning coaching staff.  She does a great job interacting with her players and is an excellent motivator. She has a firmness to her personality but also knows the appropriate times to pick her players up. This blend makes for an excellent coaching style.
We are looking to add girls born in '04 and '05 to this team. Our goal is to keep a nucleus of girls together as the team ages through the organization. Preparing the girls to be ready for high school softball is a tip priority of our coaching staff.  It isn't necessary to have prior travel ball experience in order for players to become a part of our organization.  We have put together an aggressive tournament schedule that will challenge our girls. We have secured outdoor fields and have our indoor facility to utilize in the spring and summer. Having access to these resources will allow our girls to grow in the game.
If you are interested in getting more information on this team, please contact head coach Tammy Navarro at 775-220-2502 or tammyjnavarro@outlook.com.
Tryouts to be announced soon for the 12U '04 Navarro team for the upcoming fall/winter season.
12U Lightning '04 Navarro – 2017 Roster
| | | | | | |
| --- | --- | --- | --- | --- | --- |
| # | PLAYER | GRAD YR | BATS | THROWS | POSITIONS |
|  00 |  Alyson Montoya |  2022 |  Right |  Right |  C/1B |
|   2 |  Caitlyn Timmons |  2022 |  Right |  Right |  SS/3B/OF |
|   3 |  Kayce Johnston |  2022 |  Right |  Right |  3B/OF/C |
|  10 |  Kiley McMillan |  2023 |  Right |  Right |  P/SS/OF |
|  11 |  Maysn Navarro |  2023 |  Right |  Right |  2B/SS/OF |
|  12 |  Molly Gregory |  2023 |  Right |  Right |  OF/3B |
|  15 |  Brooklyn Dillard |  2022 |  Right |  Right |  P/1B |
|  25 |  Naomi Sauceda |  2021 |  Right |  Right |  OF/3B |
|  55 |  Kelsi Davis |  2022 |  Right |  Right |  2B/OF |
|  33 |  Marissa Sandate |  2022 |  Right |  Right |  2B/3B/OF |
12U Lightning '04 Navarro – Player Profiles
Kelsi Davis
Bats: Right
Throws: Right
Positions: 2B/OF
Class of 2022
Brooklyn Dillard
Bats: Right
Throws: Right
Positions: P/1B
Class of 2022
Molly Gregory
Bats: Right
Throws: Right
Positions: OF/3B
Class of 2023
 

                                                   

 

                                                 

                                                 

Kayce Johnston
Bats: Right
Throws: Right
Positions: 3B/OF/C
Class of 2022
Kiley McMillan
Bats: Right
Throws: Right
Positions: P/SS/OF
Class of 2023
Alyson Montoya
Bats: Right
Throws: Right
Positions: C/1B
Class of 2022
                                                   
                                                   
                                                   
Masyn Navarro
Bats: Right
Throws: Right
Positions: P/SS/C/OF
Class of 2023
Marissa Sandate
Bats: Right
Throws: Right
Positions: 2B/3B/OF
Class of 2022
Naomi Sauceda
Bats: Right
Throws: Right
Positions: OF/3B
Class of 2022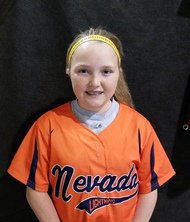 Caitlyn Timmons
Bats: Right
Throws: Right
Positions: SS/3B/OF
Class of 2022
12U Lightning '04 Navarro – 2017 Practice Schedule
Tuesdays 7:00 PM – 9:00 PM Indoors at Bret's Baseball and Softball Academy

Thursdays 7:00 PM – 9:00 PM Outdoors at Idlewild or Indoors at Bret's Baseball and Softball Academy
12U Lightning '04 Navarro – 2017 Tournament Schedule
USSSA Pot of Gold
March 18th – 19th
Reno, NV
USSSA Queen of the Hill
April 8th – 9th
Reno, NV
USSSA Bownet Challenge
April 22nd – 23rd
Reno, NV
USSSA Double Double #1
May 6th – 7th
Reno, NV
USSSA Battle of the Bats
May 20th – 21st
Sacramento, CA
NSA Sierra Shootout
June 10th – 11th
Sparks, NV
USSSA Shooting Star
July 8th – 9th
Elk Grove, CA
USSSA Last Stop
July 29th – 30th
Reno, NV
12U Lightning '04 Navarro – Coaching Staff