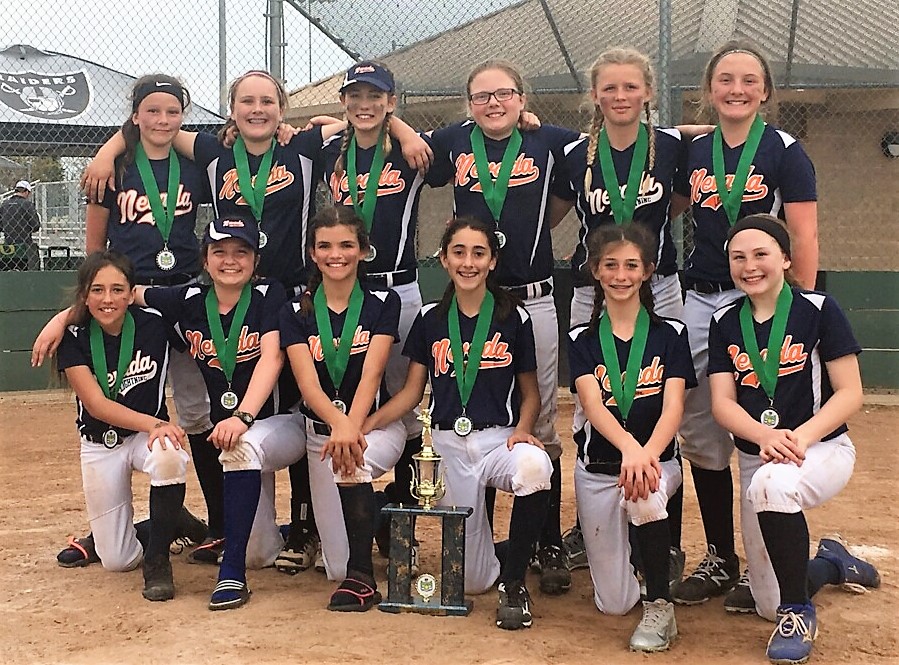 The coaches of our NVL 05 team will strive to promote commitment, teamwork, sportsmanship, competitiveness, and respect for the game. Our NVL 05 team will promote our organizational core values both on and off the field, show respect to our opponents in both victory and defeat. We will strive to play our best as a team on the field and work hard to be outstanding citizens off the field. The players and parents have one goal: Each player playing high school varsity softball and being standout softball players!!
Nevada Lightning '05 Betker Accomplishments
2017 ASA/USA JO – Champions Gold Bracket

2017 ASA/USA Spring Swing – Runner-Up Silver Bracket

2016 USSSA Fab Five – Champions Gold Bracket

2016 USSSA Summer NIT – Runner-Up Gold Bracket
2016 ASA Capital Sports – Runner-Up Gold Bracket

2016 USSSA Big League Dreams – Champions Gold Bracket

2016 USSSA Red Rooster – Champions Gold Bracket

2016 USSSA Hot Tamale – Runner-Up Gold Bracket
Coach Brad Betker is the head coach of the NVL 05 12U team. Brad brings thirty plus years of fastpitch coaching experience to the staff.  His passion, attention to detail, and dedication have made him the all-time winningest coach in the history of the Lightning organization.
Coach Betker has made the dedication / commitment to these players and will be coaching this group all the way through 18 Gold & into college. We are all excited to watch these players and families grow together during the next 6 years. Brad will also handle manager duties for the team. Look out for this NVL 05 Betker team as big things are ahead for them!

Nevada Lightning 12U '05 Betker
Please contact Coach Betker at 775-450-9000 or bradbetker@gmail.com for information about the team or to arrange a tryout.
12U Lightning '05 Betker – 2017 Roster
#

PLAYER

GRAD YR

BATS

THROWS

POSITIONS

  

4

 Angie Micone

 2023

 Left

 Right

 2B/OF

  8

 Josephine Koelewyn

 2023

 Right

 Right

 P/3B

  9

 Isabella Alosi

 2023

 Right

 Right

 P/SS/UT

 12

 Sadie Fox

 2023

 Right

 Right

 C/OF

 13

 Alena Johnson

 2023

 Right

 Right

 1B/P

 15

 Madison Breshears

 2023

 Right

 Right

 P/2B

 25

 Sharlee Jackson

 2023

 Right

 Right

 3B/SS/LF

 29

 Zadee Gitthens

 2023

 Right

 Right

 SS/LF

 32

 Paige Pensotti

 2023

 Right

 Right

 CF/1B

 44

 Sofia Mares

 2023

 Right

 Right

 OF

 52

 Avery Cordell

 2023

 Left

 Right

 RF/1B
12U Lightning '05 Betker – Fall 2017 Practice Schedule
Monday (indoors) Hitting Only 6:00 PM – 7:00 PM Bret's Baseball and Softball Academy

Tuesday (indoors) 5:15 PM – 8:00 PM Bret's Baseball and Softball Academy  

Saturday (outdoors) 9:15 AM – 12:00 PM Idlewild Park Field #1
12U Lightning '05 Betker – Fall 2017 Tournament Schedule
USSSA Fall Classic
September 16th – 17th
Stockton, CA
USSSA Diamond Classic
September 23rd – 24th
Roseville, CA
USSSA Halloween Havoc
October 21st – 22nd
Stockton, CA
USA / ASA Softball Turkey Shoot Out
November 4th – 5th
Roseville, CA
Continue to check back for additional tournaments
12U Lightning '05 Betker – Coaching Staff